Filthy News
FILTHY RICH HITS TIMES SQUARE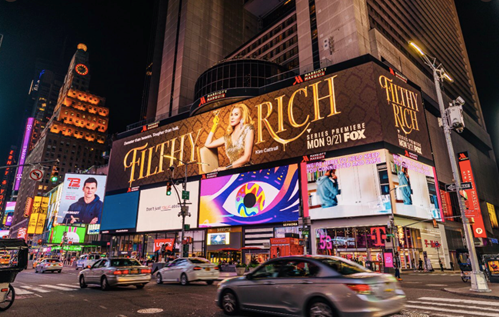 19 August 2020.  New York City's Times Square lit up tonight with a billboard heralding the premiere of the American reversioning of FILTHY RICH on the Fox Network.
Originally slated for mid-season, the show now leads Fox's fall line-up, going to air on September 21.
FILTHY & CAREY CARTER DEVELOP CHASING PURE

17 May 2019.  Filthy Productions has teamed up with Carey Carter - creator/writer/director of anthology series MATAKU to develop CHASING PURE.
The drama series has won a place in the hotly contested Raupapa Whakaari Drama Lab, a joint initiative from the New Zealand Film Commission, New Zealand on Air and Script to Screen to create high-end New Zealand content for the international market.  
 US REMAKE OF FILTHY RICH GREEN LIT ON FOX
 
13 May 2019.    Filthy Rich is being remade by Fox network in a prime time drama starring SEX AND THE CITY's Kim Cattrall.
 
The show, which ran for two seasons in New Zealand, was optioned by Imagine Entertainment, a company owned by Ron Howard and Brian Grazer for re-versioning by Tate Taylor, acclaimed director of GIRL ON THE TRAIN and THE HELP. 

US industry bible Variety calls the American take a "southern Gothic family drama", set amid a "mega-rich Southern family, famed for creating a wildly successful Christian television network". 
 
A pilot episode shot in New Orleans earlier this year also saw Kim Cattrall in the starring role, based on the character played by Miriama Smith in NZ. Starring alongside Cattrall will be Gerald McRaney, Aubrey Dollar, Corey Cott, Benjamin Aguilar, Mark L. Young, Melia Kreiling, Steve Harris, David Denman and Olivia Macklin.
 
NZ On Air's Chief Executive Jane Wrightson is delighted by the Filthy Rich's success in the US, commenting: "Filthy Productions have achieved something no other NZ producers have to date – selling a NZ drama format into the highly competitive US market. This demonstrates that NZ drama can compete on the international stage."
 

RATINGS WIN FOR BAD MOTHERS PREMIERE

21 February, 2019.  BAD MOTHERS premiered on both sides of the Tasman this week, winning its time slot for Australia's Channel 9 on Monday night.
Building upon high ratings in 25-54 delivered by its lead-in MARRIED AT FIRST SIGHT, the show easily secured the night for the network in target demographic.  
The success was echoed last night on TVNZ1 in New Zealand, when BAD MOTHERS rated top in its time slot amongst audiences 5+.  
BAD MOTHERS WRAPS SEASON 1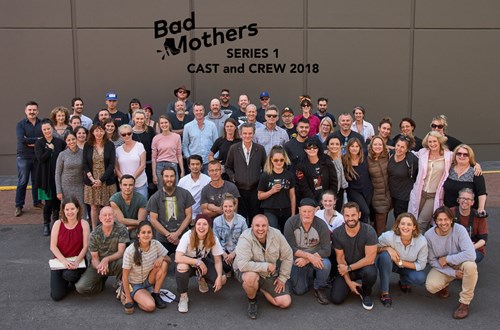 14 December, 2018.  Principal photography completed today on BAD MOTHERS on a rainy day in Melbourne.
 Director Geoff Bennett completed all scheduled material before shooting was abandoned early due to the thunder storms that saw unprecedented flooding throughout the city.
 Post-production continues into new year, with the prime time drama being screened on Nine Network in Australia and TVNZ in New Zealand early in 2019.
 2018 NZTC AWARD NOMINEES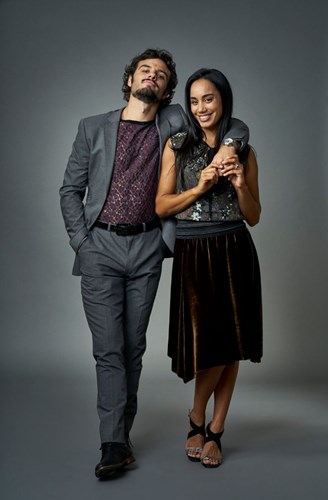 25 October, 2018.  Season 2 of FILTHY RICH has picked up two nominations in the New Zealand Television Awards, which announced its finalists today.
Dierdre Cowley has been nominated for her work in Best Makeup Design, while Sara Beale is a finalist for Best Costume Design.
It is the second consecutive year that Beale has been nominated as a costume designer for FILTHY RICH.
FILTHY RICH WINS BEST DRAMA AT SEOUL 
3 September 2018.   FILTHY RICH was announced the winner of the Silver Bird Prize in the Serial Drama Category presented tonight at Seoul International Drama Awards 2018.
Writer/Creator Gavin Strawhan  and "Brady Truebridge" Miriama Smith were in South Korea to collect the award.  They were joined on the red carpet by New Zealand's Ambassador to Korea, Philip Turner. 
BAD MOTHERS ANNOUNCED FOR AUSTRALIA'S NINE NETWORK

2 July 2018.    New Zealand television producer Filthy Productions moves into Australia with a prime time show, BAD MOTHERS, announced today by the Nine Network.
 

A co-production with Sydney-based Jungle Entertainment, BAD MOTHERS is a one-hour drama-comedy series from Rachel Lang and Gavin Strawhan about Australian mum, Sarah, whose suburban bliss is destroyed when her husband has an affair with her best friend, Charlotte, head of the Bedford Mothers' Club.  Ousted from the snooty club, Sarah finds unexpected support among the titular Bad Mothers. The new friends exact revenge on Charlotte that leads to deadly results.  
 

Nine Network announced the cast line-up at a function following last night's Logie Awards on the Gold Coast.  The BAD MOTHERS are Jessica Marais (LOVE CHILD, PACKED TO THE RAFTERS), Jessica Tovey (WONDERLAND, HOME & AWAY), Mandy McElhinney (LOVE CHILD, HYDE & SEEK), and Shalom Brune-Franklin (OUR GIRL, DOCTOR DOCTOR).
 

Shooting commences in Australia later this year produced by Steven Zanoski (FILTHY RICH) with Chloe Rickard and Phil Lloyd from Jungle.  
 

Jungle Entertainment have a track record of successful comedy shows in Australia and recently made drama MR INBETWEEN for FX.
 

TVNZ has already scooped up BAD MOTHERS for screening in 2019.  
MULTIPLE NOMINEES IN NZTV AWARDS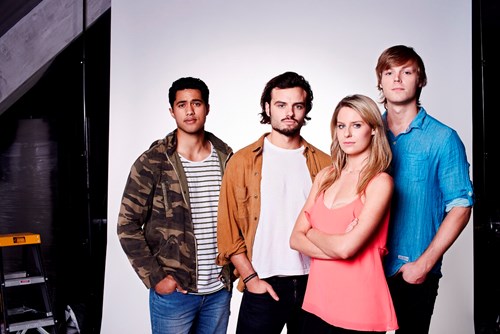 18 October, 2017.  The Craft Award nominees in the New Zealand Television Awards were announced today, with Filthy Productions being acknowledged for both FILTHY RICH and DIRTY LAUNDRY.  
Congratulations to the FILTHY RICH team of Sara Beale for Best Costume Design; Dave Cameron NZCS ACS for Best Cinematography; and Paul Sutorius for Best Editing in the Drama Category.  Further congratulations to Tracey Collins, Production Designer for DIRTY LAUNDRY for her nomination for Best Art Direction or Production Design. 
NOMINATION FOR DIRTY LAUNDRY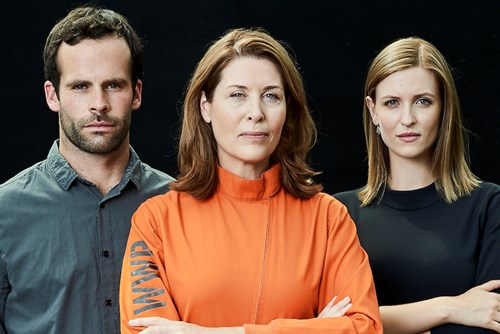 8 September, 2017.  The New Zealand Writers Guild released their nominations for Best Script in the 2017 SWANZ Awards today and amongst them was Jess Sayer in the category of Best Episode, TV Series for her DIRTY LAUNDRY script, Episode 12.
Jess is also nominated for her writing of web series AUCKWARD LOVE and also up for the award of Best New Writer.
The SWANZ Awards are held on September 28.
FILTHY FOUNDER AWARDED QUEEN'S BIRTHDAY HONOUR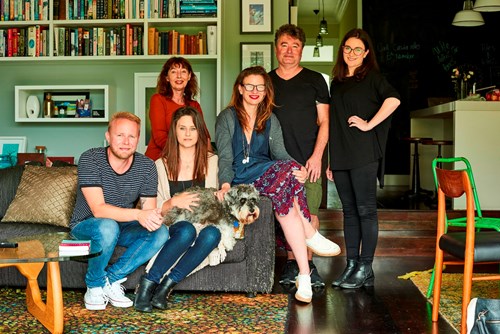 5 June, 2017.   Rachel Lang, co-founder of Filthy Productions co-owner and co-creator of both FILTHY RICH and DIRTY LAUNDRY was appointed a Member of the New Zealand Order of Merit (MNZM) for Services to Television in today's Queen's Birthday Honours.
Rachel is pictured here - back row, left - with FILTHY RICH writers, Sam Shore, Jess Sayer, Deborah Hill Cone, Gavin Strawhan and Torum Heng.
 FILTHY 2 WRAPS PRINCIPAL PHOTOGRAPHY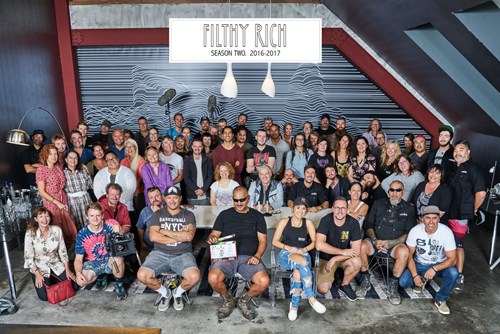 21 March, 2017.  Shooting of Season 2 of FILTHY RICH completed today under director Harry Sinclair.  The series will screen on TVNZ2 later this year.
UNITED STATES GETS FILTHY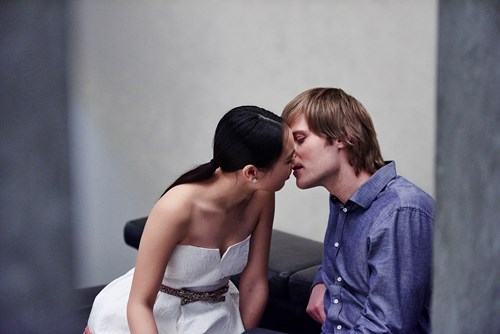 5 August, 2016.  United States streaming giant Hulu releases the first season of FILTHY RICH. The international sale was brokered by Filthy Productions' sales agent Creative Arts Agency (CAA).
The 20 episodes of Season 1 is available now to over 12 million Hulu subscribers in the United States and territories.  
   FILTHY RICH CONFIRMED FOR SECOND SEASON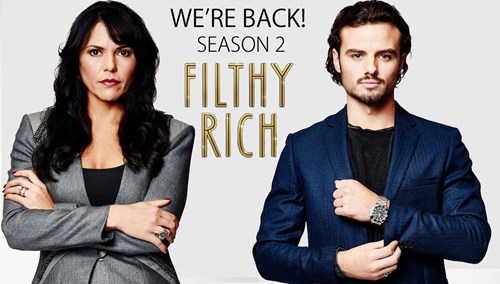 25 July, 2016.   New Zealand On Air has approved funding of $6,896,419 for a second season of FILTHY RICH to screen on TV2 in 2017.  The funding will be used to produce 14 hours of drama.
NZOA said in their announcement:  "The brilliantly-made first series had an average 5-plus audience of 250,000 and a total of more than 700,000 on demand streams across the series, meeting NZ On Air's objective of a bold local drama engaging its audience."